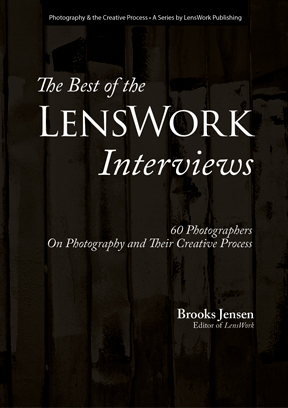 From the Preface
I've now (as of 2016) had the pleasure and honor to interview some 500 photographers for the pages of LensWork and as audio supplements to LensWork Extended. In every interview — without exception — there is at least one nugget of wisdom that makes the experience worth the time. In the art life, learning never stops — at least if we are lucky and pay attention. And the lessons we learn surely have some application for others. The 60 photographers included in this book prove that beyond any doubt.

The Best of the LensWork Interviews
60 Photographers On Photography and Their Creative Process


Featuring:

Bruce Barnbaum
Barbara & Edna Bullock
Carl Chiarenza
Michael Crouser
James Whitlow Delano
Mitch Dobrowner
Josef Hoflehner
David Hurn
Michael Kenna
Stu Levy
Joan Myers
Alan Ross
Howard Schatz
John Sexton
George Tice
John Wimberley
And many more!