---
Trilogies — Three-image sets
Announcing the 2022 LensWork Community Book Project

Long-time LensWork readers may remember seven years ago when we introduced six-image projects in Seeing in SIXES (2015-2019) and then outstanding single images in Our Magnificent Planet (2020-2021). For 2022, we're introducing a new idea we call Trilogies — three-image sets that explore a subject or theme as a group.
Fine art photography has traditionally centered around a single, stand-alone "greatest hits" image, matted and framed for display on the wall. To me, this has always seemed uncomfortably restrictive — at least from a creative point of view. Trilogies is an outgrowth of an experiment I did with my own personal work in 2014. Back then I called them "exhibition suites" and three images allowed me to explore a theme, place, or vision in greater depth. Each trilogy of images consists of one larger main image (in portrait orientation) plus two supporting compositions (in landscape orientation).
Of course, any subject that's worth printing and framing for the wall is probably worth a group of three images that explore the subject more thoroughly! The three images are related but show the subject from slightly different points of view, thereby allowing a deeper visual exploration of the content.
In the Trilogies 2022 book, we'll feature the work of 125 photographers (could be you!), each with a three-image spread on two pages. Here are some important specifics:
Each submission must be exactly three images

Each submission must have either 1 portrait orientation image plus 2 landscape orientation or square images, or a submission can include three square or landscape orientation images. Three square images are ok, too.

All three images must be either b/w or all three images color. No mixing, please. (This is a restriction of the book layout and printing demands.)

Any subject is okay, but the three images should work together as a group. It's best if they explore a theme, a place, an emotional mood, or vision.

You may submit as many three-image projects as you want.

Unlike previous books, this year there will be no titles or text needed. Just images!

As with the previous six LensWork Community Book projects, everyone who enters will receive a copy of the book — one book per entrant.

The first three-image trilogy submitted is $45; all extra three-image trilogies will be $15 each.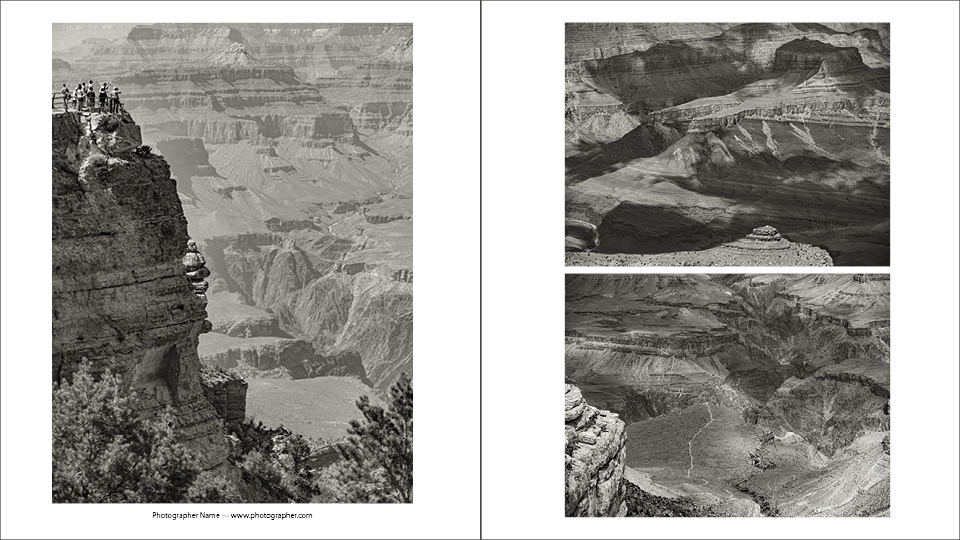 The above trilogy is from this year's trip to the Grand Canyon. Additional examples are on this page.
As with all six of our previous book projects, I continue to be amazed at the quality of photography that comes from our LensWork readers. I would unhesitatingly say that you are the best collective group of photographers anywhere, anytime. I'm proud of LensWork, but the real measure of accomplishment in our readers as a group will be found in the books from the last six years. I have no doubt that this year's project, Trilogies 2022, will provide another sterling example of the excellence of photography our readers produce.
A Word About Layouts
Keep in mind that these are trilogies, not triptychs. Triptychs often have images that "line up" to one another when displayed left to right; Trilogies don't.
And finally, might I suggest that this is another great opportunity to explore your Lightroom catalog for forgotten gems that might work great in a trilogy!

Deadlines
The entry process opens May 23, 2022 and the deadline for entries will be Monday, September 12, 2022 at midnight.

As we've done for the last four years, everyone who enters will receive the finished book. Entry fee will be $45 for your first three-image set — which covers the entry, the book, and the shipping. You may enter additional three-image sets for $15 per set, but each entrant will receive just one book. Additional books will be available for purchase at a discount price. Because we want to give 125 photographers a chance for their work to be published, each selected photographer will have only one trilogy in the book.

This project is going to be extraordinary! I can hardly wait to see your three-image sets and share them with the world in this LensWork 2022 community book project.