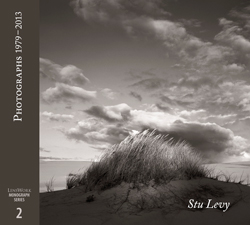 This 72 page, duotone book is only available to Monograph subscribers — we will not have back issues of monograph titles.
The deadline for subscribing for this issue is Friday, January 31, 2014. We print the following week and will be shipping to subscribers the week after that.
Subscribe Now! to receive this and the next three monographs . . .
...including Michael Reichmann's Mexico - The Light and the Warmth, Huntington Witherill's Chariots of Desire, and an additional title TBD.
43 images, 72 pages
Book dimensions: 9" wide by 8" tall
The quality duotone printing you've come to expect from LensWork
Foreword by Carl Chiarenza

"Dwell upon these visuals; go deep; let the emotions flow, slow, rise and fall; sense the quiet, the indefinable, the silent timeless wonder of your unique personal experience/response. Explore, discover the mystery, as Levy did on his journey."
Annual subscription for four monographs as low as $47 — less than $12 each! See our online store for details and discounts.
Click images for a larger view.