LensWork Online
2019
Quite simply, the most amazing, content-rich membership website for photography and the creative process you've ever seen.
Watch a video about LensWork Online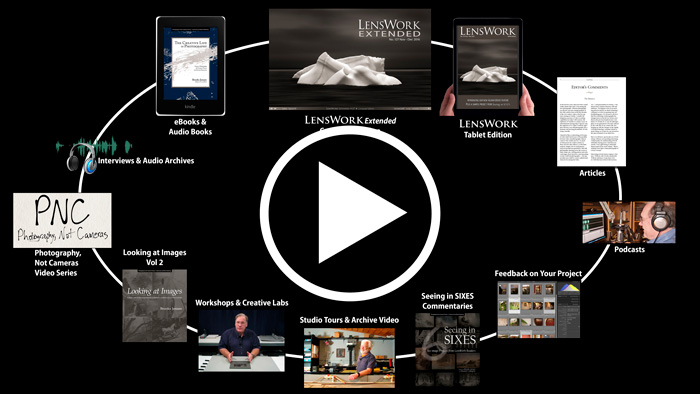 Pricing and membership details


LensWork
Digital Publications
The following two digital publications are available to all LensWork Online subscribers.
LensWork Tablet Edition

Newly designed for either your iPad or Android tablet with larger images and easy-to-read text.

A single PDF file including all the content of the Print Edition — portfolios and articles!
LensWork Extended Computer Edition

Intended for Mac or PC computers using the Adobe Reader, this edition takes advantage of the additional capabilities available only on computers — audio and video, PDF layers with commentary text, cross document links, and more.
Distributed exclusively here via a single PDF file.
Full Access Members

can also access
Interviews with Photographers

We've conducted over 400 interviews with photographers about their creative process. These interviews accompany their portfolios published in LensWork and LensWork Extended. All of these interviews are now available here. There is always something to learn from others' experiences on their creative path — enjoy!

After the Interview

At the end of every interview, there are always some "off the cuff" comments that are recorded after the conversation is officially over. These "behind the scenes" segments are always edited out of the official interviews, but often contain some wonderful insight, personality, or stories. A selection of some of these unedited excerpts in LensWork Online is included as an exclusive member benefit.

Special Interviews

From time to time, we interview people like the Mary Virginia Swanson, Stephen Perloff, or Bill Jay — talented individuals who offer more to photography than their photographic skills. Writers, thinkers, movers-and-shakers, these special interviews are available for download from LensWork Online.

Alumni Newsletter

You may be aware of our free, monthly Alumni Newsletter. If not, check it out as a part of LensWork Online! PDFs featuring news, publication and exhibition announcements, etc, from LensWork alumni.

Readers' PDF Gallery

We know that lots of you are producing PDF publications of your work, but need a way to get them in front of an audience. In the Readers' Gallery, we do just that! Send in your finished PDF for review and we'll publish the best of them in this new gallery.
The LensWork Online Resource Library
Our extensive Resource Library includes articles and essays from LensWork, our entire 1,000+ podcast audio library, our PNC (Photography, Not Cameras) "fireside chat" video programs, full content of our LensWork Visual Workshops, our Creative Lab tutorials and tips, and lots of additional information. Content of this Resource Library is perpetually available to current full access members. Literally terabytes of great content on photography and the creative process!

New for 2019 — now includes
Looking at Images video commentaries!

Videos with Brooks Jensen

Informal and extemporaneous discussion of a wide variety of topics

Recorded video reviews of photographer's portfolios — with the photographer's permission, of course!

Different than our podcasts or Creative Labs, PNC videos are like attending a live workshop without the travel or the expense!

Discussions of books, media, creative ideas, strategies, developing projects, selling your work — it's a cornucopia of photography and the creative life.

Visual Workshops

We are big fans of the training available at lynda.com. Following their example, we're making available the full content of each of our Visual Workshops within the LensWork Online website — the entire content. If purchased on disc without LensWork Online membership, these Visual Workshops on disc would cost $298. Now, with a membership to LensWork Online, you can view all of them as many times as you'd like at no additional charge beyond your annual membership.

Creative Labs

Some topics are vitally important, but simply do not require a full workshop. These programs are typically shorter than full workshops, explore a wide variety of topics, and are presented in their entirety (at no additional cost) as a LensWork Online membership benefit.

Podcast Archives

Brooks started his "audio blog" in February of 2004. Six months later, Apple introduced the iPod and "podcasting" was born. So ... Brooks has been podcasting before podcasting was podcasting! All 1,000+ (and growing) of Brooks' podcasts on photography and the creative process are available at LensWork Online for free download. Don't forget, our most recent podcasts are available on our LensWork Daily Blog and via RSS feed.

New Looking at Images Vol 2 Commentaries

Based on our best-selling book Looking at Images but with all new images not included in the book!

Brooks Jensen's in-depth commentaries are not critiques, but instead discuss aspects of photography through image content, context, and composition. Like the book, this Looking at Images feature on LensWork Online is a study aid — an engaging look at images as a platform to think about photography and the creative process. The intent is to provide photographers with tools to help them think about their own creative work.

Seeing in SIXES Commentaries

The enthusiasm for our LensWork community book projects (2016, 2017 and 2018) was amazing! We had room for only fifty 6-image projects in each book.

In this series of audio commentaries, we discussed the aspects of each project that propelled it to the elite group to be published. A supplement for those who have the books and want to use it as a further learning tool for their own 6-image projects!

Editor's Comments

Brooks' Editor's Comments are one of the most popular elements of LensWork. At LensWork Online, you can read every one of them, going all the way back to LensWork #1.

eBooks

For Kindle and other eReaders

Our Looking at Images blog is expanded with additional audio comments that explore different aspects of an image not discussed in the written blog.

Audiobooks

Letting Go of the Camera and The Creative Life in Photography are now available! Download the MP3 audio files and listen on the go!

Darkroom Tours

We've toured a number of darkrooms and digital workspaces over the years — and there are more in the works! You'll find all of them here for viewing via LensWork Online.

Archive Audio

We are converting hundreds of hours of audio cassettes from the early days of LensWork as well as audio of workshops Brooks has recorded over the last several decades. We will be making them available here as they are ready. These recordings are being converted to downloadable MP3 files. This is a unique opportunity to hear some of photography's great masters speak about their craft with the passion and clarity that is only available by hearing them "live" via these archive recordings.

Free InDesign and Photoshop templates

Why design from scratch, when you can download free templates from LensWork Online?

Archived LensWork Online content

Some areas of LensWork Online have been semi-retired and we are no longer developing new content for them. You'll find all the archived materials here — well worth exploring and lots of hidden treasures to be found!
You and Your Work
From the very first issue of LensWork in 1993, we've been dedicated to helping photographers find their own voice, produce their own work, and be active members of the photographic community. To quote one of our favorite lines from Lonesome Dove, "We don't cotton to no shirkers." We're serious about helping our readers, and here are some of the ways you can learn and grow as a photographer with an annual membership to LensWork Online.

Feedback on Your Project

Here is your opportunity to have comments on your work and learn from others, too! In short 5-15 minute commentaries, Brooks offers an "editor's look" at your project using screen capture video with audio commentary. Ideas about editing, sequencing, project development, style and presentation, technical suggestions, and more.

These comments about your work and project can be for your eyes and ears only, or you can optionally grant us permission to share the comments (anonymously, of course) with our LensWork Online community so they might learn along with you.

This is offered as a $50 fee-based review — only because Brooks couldn't possibly keep up with the demand if we offered this for free. Details and how to submit your work for review . . .

Added Benefit for LensWork Online members

And, as a Full Access LensWork Online member, you can view the comments about your fellow photographer's work and we can all learn together! Sort of like a workshop review without the travel and expense!

Now part of our PNC series!

View Feedback of other photographers' work

Some of the photographers who have requested feedback on their project have graciously agreed to allow us to post our comments here so other LensWork Online members can benefit from their learning process. Like a workshop review session, listen in on comments about another photographer's work that you can learn from!

Publication in LensWork

We always enjoy the opportunity to look at new work. In fact, about half of what we've published in LensWork and LensWork Extended comes from submissions that were originally unsolicited, that is to say, from readers and subscribers like you. We love giving exposure to photographers who are doing good work but are not plugged-in to the publicity machines that galleries and traditional publishers provide!

Full Submission Guidelines
(Updated January 2016)

Dropbox upload link
For submissions to LensWork (print edition and extended digital editions)

We no longer accept physical submissions (on disc, thumbdrive, or prints). Submissions are accepted only via Dropbox. Use the links above to send your images and documentation.